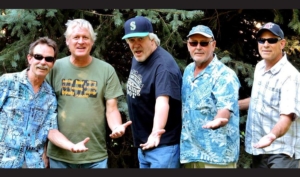 There are a lot of bands that cover the popular songs that you hear over and over again. We think that is great. We think they all do a great job. But the Working Poor have chosen another route. Yes, we are a cover band for the most part, with some original music scattered throughout our set-list, but the covers we choose to do are not very widely known. The songs are selected for a good melody… and a good story line. Most of them have something unique to say and if they are danceable too, well all the better. The part that is so appealing about playing music that is not widely known is the fact that it puts a challenge on the band to present the song in such a fashion that will win the audience over…or simply put, we must sell the song! The Working Poor is made up of musicians that have been playing music most of their lives and the age range of the members goes from the late 50's to the mid 60's. These guys were around when the Beatles appeared on the Ed Sullivan Show. We were kids in the 1960's and absorbed all the great songs and artists of those great years, that quite honestly, will never be repeated.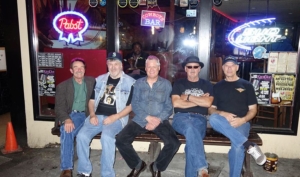 Daniel Mark Faller is the leader of the Working Poor. He was born in Seattle, Washington in 1952 and relocated to North Central Idaho in 1972. He lives with his Wife Becky and Grand Daughter Harlee in Lewiston, Idaho. He has been a professional musician since 1975. Daniel has played in some of the region's most popular bands over the years. He was a founding member of the Stretch Wabash Band and he was the front man for the Seidel Brothers Band for over 10 years. He was also a founding member of the Big Newtons and stuck with that band for 18 years. He founded the Working Poor based on a vision of a great band doing the obscure material explained above and so far the plan he envisioned is coming together without a hitch.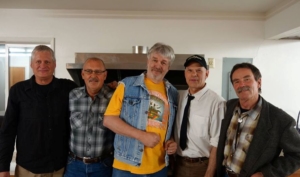 Bruce Grimoldby is the bass player and sings background vocals and a few lead vocal parts. Bruce is a native of Lewiston, Idaho and has spent his day-job career in education and administration at the Northwest Children's Home in Lewiston. Bruce is a multi instrumentalist that has played various instruments in bands through the years such as guitar and drums. He and Daniel played together in the Stretch Wabash Band in the 1970's where Bruce was the lead guitar player. Bruce began playing the bass in the 1990's and was the bass player for the Secret Agents and played bass in the Big Newtons for over 18 years.
Cris Peterson plays guitar, mandolin, fiddle and sings background and a few lead vocals. Cris is a Moscow, Idaho native who has lived in other parts of the Western States but now has returned to Moscow and works for the University of Idaho. Cris is a seasoned musical talent and has spent time in some local bands including the Mullen Road Band, Corn Mash and Undiscovered Country.
Brian Davies plays Pedal Steel Guitar. Brian and Daniel go back along ways as they were founding members together in the Stretch Wabash Band in 1977. Brian went on to a remarkable tour of musical duty with bands like Buffalo Rose, Kip Attaway, the Famous Motel Cowboys and Pinto Bennett to name just a few. Brian now lives with his wife and family in Uniontown, Washington and has worked for Schweitzer Engineering for a decade.
Doug Lopes plays drums and sings background for the band. Doug was raised in Spokane, Washington and now lives with his wife in Pullman, Washington and works at Washington State University. Doug is a life long drummer and has spent time in the Mullen Road Band and Cold Creek before joining the "Poor". The Working Poor rehearse at Doug's wonderful Pullman home and he and his wife always make sure that there is plenty of cold bottled water and hot popcorn available on practice nights.
Here are the venues we have played:
The Blue Lantern / Lewiston, Idaho
One World Cafe' / Moscow, Idaho
Grumpy's Tavern / Clarkston, Washington
The Nez Perce County Fair '13 / '14 / '17 Lewiston, Idaho
Pullman Dance Club '14 / '15 / '16 Pullman, Washington
Moose Lodge / Clarkston, Washington
Community Concert '14 / '16 Enterprise, Oregon
Terminal Gravity / Enterprise, Oregon
Adam's Field Fireworks Show '14/'15/'16/'17 Clarkston, Washington
Merry Cellars / Pullman, Washington
Browne's Addition Concert '14 / Spokane, Washington
The Red Lion Hotel / Lewiston, Idaho
Reaney Park Concert '14 / '15 / '17 Pullman, Washington
Community Concert '14 / '15 / Grangeville, Idaho
Rooster's Waterfront Restaurant / Clarkston, Washington
Red Barn Farms / Colton, Washington
The Dahmen Barn / Uniontown, Washington
Lewis-Clark State College Summer Concert '14/'16/'17 Lewiston, Idaho
Sound Downtown '14 / '15 / '16 Lewiston, Idaho
Downtown Concert '14 / '15 / Walla Walla, Washington
Farmer's Market '14 / '15 / '17 Moscow, Idaho
Hot August Nights '14 / Lewiston, Idaho
Lewiston Roundup '14 / Lewiston, Idaho
Latah County Fair '14 / Moscow, Idaho
Redneck Rendezvous for Willow '14 / Lewiston, Idaho
Elks Lodge / Walla Walla, Washington
The Cider House / Pullman, Washington
John's Alley / Moscow, Idaho
The Mystic Café / Lewiston, Idaho
The Yuppie Tavern / Kirkland, Washington
The Little Red Hen / Seattle, Washington
The Kenworthy Theatre / Moscow, Idaho
Latah County Humane Society Fundraiser '15 /'16 Moscow, Idaho
Walla Walla Guitar Festival 2015 / Walla Walla, Washington
University of Idaho Block Party 2015 / Moscow, Idaho
Empire Theatre / Tekoa, Washington
Tom Grainey's / Boise, Idaho
Summer Concert Series '15 / '16 / '17 Harrison, Idaho
Lindsay Creek Vineyards / Lewiston, Idaho
Dent Acres / Orofino, Idaho
Lapwai Days '15 / Lapwai, Idaho
1860 Days '15 / Pierce, Idaho
The Hub / Kamiah, Idaho
City Park / Riggins, Idaho
Cadillac Jack's / Pendleton, Oregon
Ernie's Steakhouse / Lewiston, Idaho
Sapolil Cellars / Walla Walla, Washington
Scheirman Event Center / Moscow, Idaho
Sunray Farms / Othello, Washington
Moose Band Bash '16 / '17 Clarkston, Washington
Art Under the Elms '16 / Lewiston, Idaho
Northwest Children's Home Gala '16 / Clarkston, Washington
Keuterville Community Center / Keuterville, Idaho
Mile High Marina / McCall, Idaho
Alive After Five '16 /'17 Clarkston, Washington
Riverport Brewing Co. / Clarkston, Washington
Palouse Music Festival 2016 / Palouse, Washington
The Eagles / Walla Walla, Washington
The Wrangler / Lewiston, Idaho
The Eagles / Colfax, Washington
Kamiah Hotel Steakhouse and Bar / Kamiah, Idaho
Hardware Brewing Co. / Kendrick, Idaho
The Eagles / Dayton, Washington
Tucannon River Jam 2017 / Starbuck, Washington
SEL Annual Picnic 2017 / Moscow, Idaho
Hill's Resort / Priest Lake, Idaho
Elks Lodge / Lewiston, Idaho
The Ranch Club / Boise, Idaho